Transform your ideas into reality.
Your ideas can change the world. By learning and applying the principles of innovation and entrepreneurship, you will unleash the full potential of your creativity and innovation, finding purpose in your passion.
What you'll study
Your courses are designed to help you think outside the box and bring your ideas to life. You'll learn about innovation, independent thinking and creative problem solving. You'll practice turning ideas into business ventures, innovative products and services, and successful start-ups. You will have the opportunity to compete for cash prizes in our New Venture Fair.
Center for Innovation and Entrepreneurship
Through the Steven Dorfman Center for Innovation and Entrepreneurship, you will have access to events, networking opportunities, educational venture and Hub101. This space is designed for entrepreneurs like you to collaborate, launch starts ups and receive expert advice from community members. Hub101 is also a valuable source of student internships.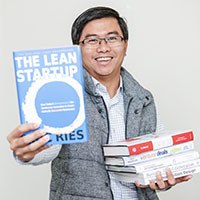 My field of entrepreneurial finance is constantly changing. We are already moving toward another entirely new approach to startup financing—the notion of initial coin offering. Meanwhile, crowdfunding has grown to a size that puts it in the same boat as venture capital and angel investment. I keep students up-to-date with these changes in my experiential courses, involving guest speakers and updated business cases.
Dr. Dan Hieu Vo
Popular Major Pairings