Meet the Ambassadors
Hometown:

Foster City, CA


Major:

Sociology & Political Science


On-Campus Involvement: Intercollegiate Women's Soccer (Captain), AmeriCorps Fellow (Safe Passage Youth Foundation), Alpha Kappa Delta Sociology Honors Society, Culver Research Fellow
About: Sonia is a senior from the Bay Area, CA. She came to Cal Lutheran with aspirations to not only play intercollegiate soccer, but to also discover her purpose and ambitions. Over the course of three years, she established a passion for social justice and proactivity in communities. In her free time, Sonia enjoys playing soccer, exploring different foods, and spending time with friends & family! After Cal Lutheran, she plans to pursue graduate studies in Public Policy.
Hometown:

Gilroy, CA


Major:

Public Relations, Gender and Women's Studies


On-Campus Involvement: Student Assistant in the University Relations Department, Reporter for 'The Echo', Public Relations Student Society of America, PRIDE club participant, and Theatre Advocate
About: Lauren, or Ren for short, is a Senior graduating in the spring of 2022. A Northern California native, transferring to CalLu during the height of COVID was a huge change, but one of the best decisions made. Ren brought with her the desire to continue developing positive change in her community through social justice and human rights. When she is not busy with school or work, you can find her practicing her barista skills, crafting or dreaming of the chance to travel!
Riley Civerolo Douglas '22
Hometown:

Lawndale, CA


Major:

English: Creative Writing Emphasis


On-Campus Involvement:

Co-President of the Improv Troupe and Department Assistant to the English Department


About: I am a senior here at CLU, and my greatest passion is story-telling. I love improvising, writing short stories, and playing Dungeons & Dragons with my friends. I also love making art, whether it be painting, illustrating, or embroidering. Collaborating with others to make creative works and encouraging people to create content always brings me great joy.
Hometown:
Buckley, WA

Major:
Business Entrepreneurship
On-Campus Involvement:
Dance Team member and Presidential Host
About:
I am a Sophomore studying business in hopes of opening my own Cat Café. I enjoy dancing and I am a freelance photographer.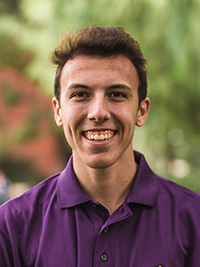 Hometown: Thousand Oaks, CA
Major: Sports Communication
On-Campus Involvement: Sports Director for iCLU radio and podcasts, Presidential Host, Peer Advisor, member of the following clubs: Hillel, Hawaiian Club, Math Club, and Ultimate Frisbee club. I also participate in intramurals.
About: My name is Austin Gregory. I am a big sports fan and hope to pursue a dream in Sports Broadcasting following college. I have lived in Thousand Oaks my whole life and have become a part of the community by coaching for and helping run our local youth basketball league, umpiring for one of our local baseball leagues, and going back to coach for my high school's water polo team where I played all 4 years and set a record during my senior season.
Hometown: Thousand Oaks, CA
Major: Business Administration
On-Campus Involvement:

Mentor for Project CHESS and student tutor for SSS


About:

My blend of passions includes personal finance, social justice, and mentoring. I work to empower others, create opportunities, educate, mentor, and grow philanthropy. And, on my time off, you can find me at the beach.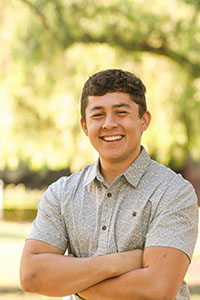 Hometown: Moorpark, CA
Major:

Political Science & Criminal Justice


On-Campus Involvement:

ASCLUG, Resident Assistant, Student Ambassador, PNW Club, Baseball


About:

Love to stay active, biking and surfing are my favorites. Stay engaged and active in local politics, interning for State Senator Bob Hertzberg and Congresswoman Julia Brownley. Want to go law school after undergrad at Cal Lutheran.