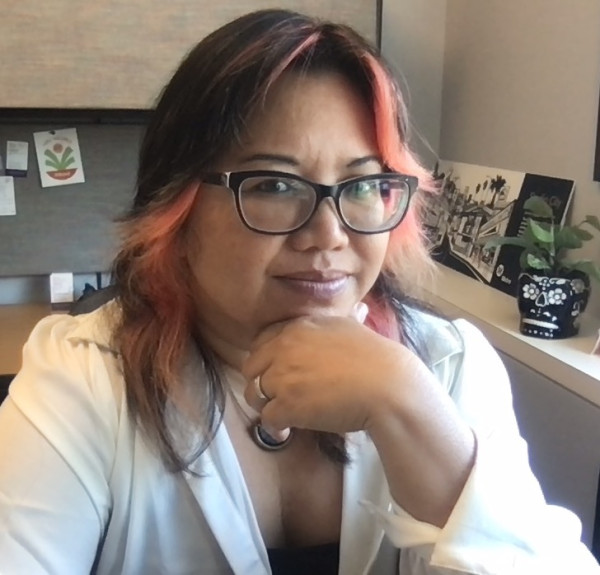 Jolivette Mecenas, Ph.D.
Associate Professor and Composition Coordinator
she/her
Office Hours: Mondays and Thursdays: 11am - 12pm; by appointment
About
I am an Associate Professor and the Composition Coordinator in the English Department. My current research focuses on writing programs that support educational access and equity for historically under-represented students, in first-year writing courses and writing in the disciplines/across the curriculum. I also write about how minoritized populations create reading and writing publics as a form of advocacy, public deliberation, and civic discourse. I grew up in the San Fernando Valley region of Los Angeles, graduated from Los Angeles Unified public schools, and was a first-generation college and graduate student. I completed my Ph.D. in English at the University of Hawaii-Manoa, where I taught writing, literature, and advanced written argumentation. Prior to Cal Lutheran, I was the Writing Program Chair at the University of La Verne, and the Interim Director of the First-Year Writing Program/Visiting Professor at California State University, Los Angeles. I was also an adjunct instructor and tutoring center coordinator in the English Department at San Francisco State University.
I teach courses in critical reading and writing, rhetorical theories, critical theories, advanced argumentation, and the teaching of writing.
Additional Professional Appointments
Faculty Learning Circle Chair, Project CHESS (Collaborative for Hispanics in Higher Education & Student Success), California Lutheran University
National Council of Teachers of English (NCTE) Nominating Committee, 2021-2022
Scholars for the Dream Co-Chair, College Composition and Communication Conference/NCTE, 2021 - 2022
Education
Ph.D. English, Department of English, University of Hawai'i-Manoa
M.A. English (Rhetoric and Composition), Department of English, San Francisco State University
B.A. Art; Literature (Minor), Departments of Art and Literature, University of California, Santa Cruz
Publications
Peer-Reviewed Articles
"Come Out and Dance." Journal of Multimodal Rhetorics, vol. 7, no.1, Fall 2022.
"Anti-Racist and Faith-Based: Critical Pedagogy-Informed Writing and Information Literacy Instruction as a Hispanic-Serving, Lutheran Liberal Arts University." Radical Teacher - A Socialist, Feminist, and Anti-Racist Journal on the Theory and Practice of Teaching, vol. 121, 9 December 2021. pp. 14-23. (With Meghan Kwast and Yvonne Wilber).
"Aligning Practice with Belief: Bringing Antiracist Information Literacy and Writing Instruction to an HSI Lutheran University." WPA: Writing Program Administration Special Issue: Black Lives Matter and Antiracist Projects in Writing Program Administration, vol. 4, no. 3, Summer 2021. pp. 162 - 168. (With Meghan Kwast and Yvonne Wilber).
"Recognizing Institutional Diversity, Supporting Latinx Students: First-Year Writing Placement and Success at a Small Community Private HSI." Open Words: Access and English Studies, vol. 12, no. 1, December 2019. pp. 126 - 146.
Peer Reviewed & Edited Book Chapters
"Refusal as Renewal: An Asian/American Woman Saying No While WPA-ing." Understanding Writing Program Administration Readiness and Renewal. Jangelo, Joe & Mark Blaauw-Hara, editors (forthcoming 2023, Peter Lang Publishers).
"Advocating for Second Language International Students, Building on Recent Research from A/AAC Caucus Members." Building a Community, Having a Home: A History of the CCCC Asian/Asian American Caucus. Eds. Monberg, Terese Guinsatao, Jennifer Sano-Franchini, and Hyoejin Yoon. New City Community Press and Parlor Press. 2016. Print.
"A Career of Acting 'Ill-Mannered': Jeffery Paul Chan on Reviewing Textbooks for NCTE and Teaching Ethnic Studies." Listening to Our Elders: Writing and Working for Change. Eds. Blackmon, Samantha, Cristina Kirklighter, and Steve Parks. Utah State UP, 2012. Print.13pp.
"Beyond 'Asian American' and Back: Coalitional Rhetoric in Print and New Media." Representations: Doing Asian American Rhetoric. Eds. Mao, LuMing and Morris Young. Utah State UP, 2008. Print. 30pp.
Other Publications: Teaching Blogs, Nonfiction, and Fiction
"Using Multimedia Profiles to Tell Immigrant Stories." In the Classroom. KQED Education. 7 March 2019.
"Leaning Out." Literacy & NCTE: The Official Blog of the National Council of Teachers of English, Urbana, IL. August 2016. Web.
"The Baby Project." National Public Radio, Washington, D.C. June – September 2011. Web.
"A Fistful of Love." Transfer Magazine 100th Edition Commemorative Issue. San Francisco, CA: San Francisco State University, December 2010. Print.
Work in Progress
"Equity-Minded Writing Placement During the 'New Normal': Four Case Studies of SSP in Private and Public Institutions." WPA Advocacy in a Pandemic: Lessons Learned. Eds. Ruecker, Todd, Sheila Carter-Tod, and Heidi Estrem. With co-authors Kat O'Meara, Briana Bayraktar, and Lisa Mastrangelo. (publication projected for late 2023).
"Why Faculty Perceptions Matter: Supporting Multilingual Writers in Writing Intensive Courses in the Disciplines." This is an IRB-approved qualitative study submitted for review.
Contributing writer to a nonfiction anthology: Queer Moms Raising Boys. "A Punk Playlist for Queer Moms Raising Feminist Boys" (essay) and interviews with various families (narrative collection and writing in progress).
Grant Funding
Initiative: The First-Year Common Read Program, Fall 2022
Speaker's Fee for Dr. Deborah Miranda, author of Bad Indians. Campus visit date: Monday, October 24
Awards (Internal)
$2,000 from Artists & Speakers Fund, Academic Affairs Office, CLU
$1,000 from DEIJ Mini-Grant, Diversity, Equity, Inclusion, & Justice Office, CLU