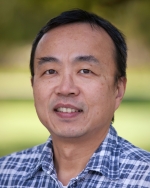 Chang-Shyh Peng, Ph.D.
Professor of Computer Science
About
Dr. Peng develops and teaches a wide spectrum of undergraduate and graduate level computer science courses. He has considerable experience in working with business to develop curricular offerings that are responsive to the needs of the corporate community. Dr. Peng's interests include Local Area Network/Wide Area Network, data communication and networking, parallel processing, client/server development and graphical user interface. He has published numerous articles on network simulations and modeling, computer and system applications, and advanced algorithms.
Education
B.S., National Taiwan University
M.S., Ph.D., University of Texas at Dallas