Our ACBSP-accredited Executive MBA is designed for successful career-minded people striving to achieve their next big goals and perform at peak potential.
In a cohort of peers from different industries, this hybrid program (online and compressed weekend courses) explores topics relevant to senior leaders, from managing people to managing processes and operations. With a strong emphasis on teamwork, participation, and communication, students benefit from a world-class faculty, small class sizes, a stimulating environment, and exclusive networking opportunities.
Want to learn more?
Let us know you're interested and we'll reach out to answer your questions. You'll also receive more information about the program and your financial aid options.
Loading...
School of Management Open House
Thursday, April 20, 2023 from 6:00 - 7:30 pm
We're hosting an Open House reception to give you an opportunity to learn more about what Cal Lutheran's School of Management has to offer. You'll meet faculty and staff, current students, and alumni who can tell you first-hand about the value of our programs.We offer graduate education degrees that will prepare you to lead and transform education for the challenges of the future. Whatever your program of interest we'd love to meet!
A Program for Leaders
We designed this program for professionals with a minimum of 5-7 years of professional experience.
The program focuses on five key areas of leadership and management.
Hybrid Model
The program features 16 courses delivered in a hybrid model: 8 on-campus, 7 online, and 1 travel.
The on-campus courses are offered in a compressed weekend format to work with your busy schedule.
Schedule of Courses
Courses are offered year-round through eight terms that are eight weeks in length.
The entire program is designed to be completed in less than 2 years.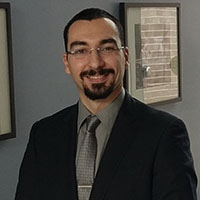 I was extremely fortunate to have an incredibly supportive, caring and interesting cohort. Many of my fellow cohort members have gone on to secure promotions or make major changes in their careers during and immediately following our EMBA program experience. Staying connected with them and learning how they secured the next step of their careers has been an invaluable learning tool for my own career development. That is the power of networking—it helps yourself and others grow and learn together.
Marin Kakachev
Portfolio Execution Specialist II, Wells Fargo Commercial Banking Group