Graduation Banquet 2023
Celebrating our Graduates!
Save the date for our 2023 celebration of the School of Management's graduating students on May 12th, 6:00pm-9:00pm in Kingsmen Park.
Free CLU Student/Faculty/Staff Registration
Early Paid Registration (Until April 14th)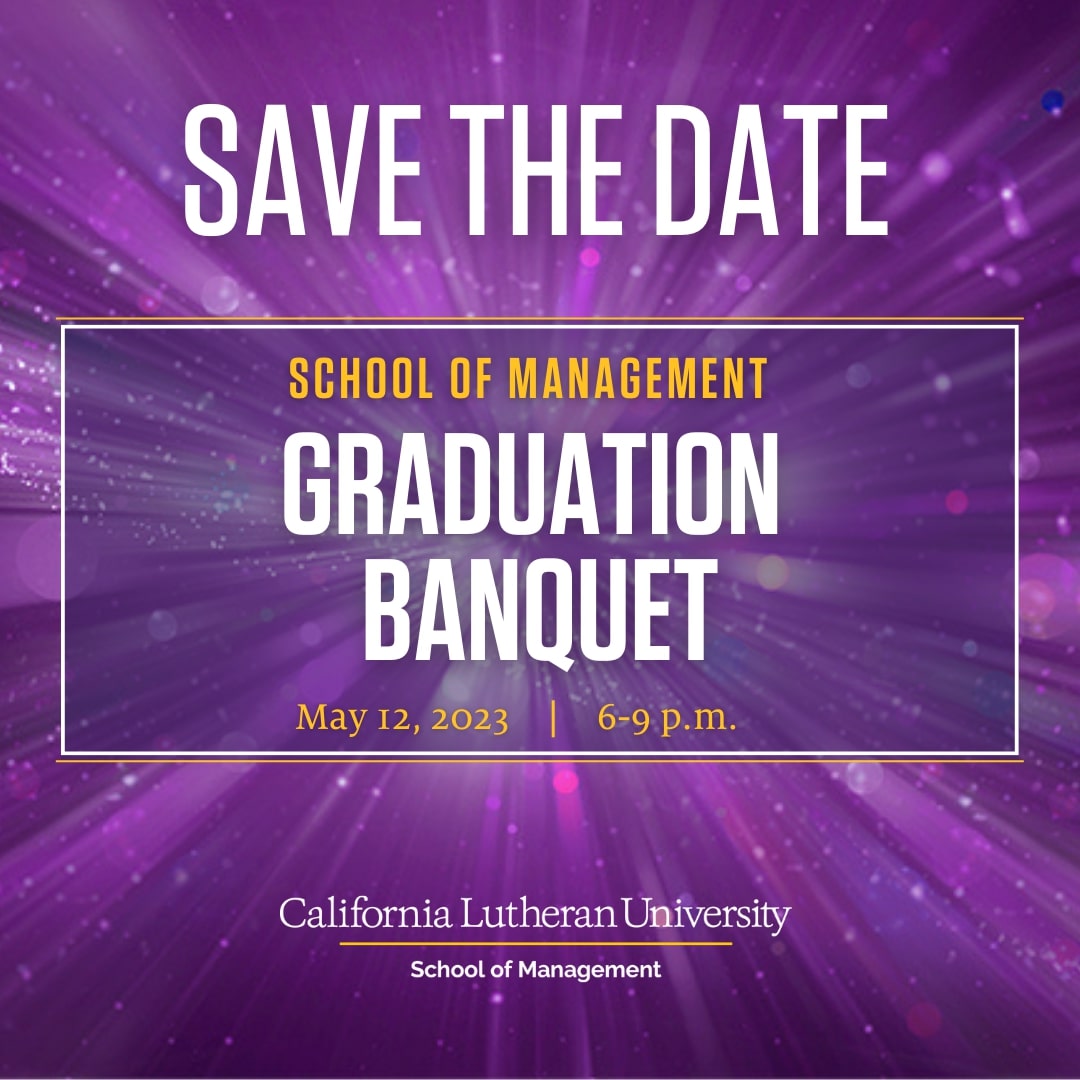 2022 Graduation Banquet Highlights
We welcomed close to 600 guests at our Annual Graduation Banquet - the first one since the pandemic struck the world in 2020. This year's special celebration included students from the classes of 2022, 2021, and 2020 and their families and friends! In attendance, to honor our graduates' accomplishments were President Lori Varlotta, Provost Leanne Neilson, VP Cristallea Buchanan, faculty, staff, advisory council members, and other guests, including the Austrian Trade Commissioner to the United States, Mr. Volker Ammann.
The event was masterfully emceed by undergraduates Avery Conrad and Christina Whyte, and featured student speakers - undergraduate Khuslen Munkhbayar (Business Administration '22) and graduate Colin Hall (MSQE '22). This year, we also presented our inaugural School of Management Distinguished Alumni Award to double alumna Amie Krause.

Everyone enjoyed excellent catering, entertainment, music, dancing, photo booths, swag raffle, games, and more! Thank you to our corporate event sponsors Union Bank and Arroyo Capital/alumnus Jeff Brouelette for their generous support of the banquet. It is an amazing community celebration not to miss!
Corporate Sponsorship Partners
If your corporation or you know someone who might be able to support this event, please view this flyer for information or email som@callutheran.edu.
Watch a few videos from our past banquets


COMMENCEMENT INFORMATION:
This banquet is a separate event from the commencement ceremony. Please go here for instructions on how to apply for graduation, request tickets for commencement and ordering of your cap and gown.
If you have questions, please email Rosie Baker at rlbaker@callutheran.edu