Building Networks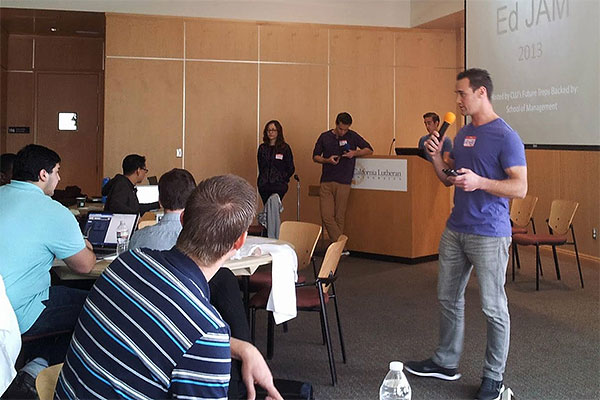 The School of Management is an engaging center for activity in a thriving region, where students, alumni, faculty, and business and community leaders convene to explore ideas, learn from one another, and shape the future together.
The relationships formed at California Lutheran University's School of Management create a doorway to the greater business community in California, the nation, and the world. Throughout the year, the School of Management sponsors and engages in many unique events that create opportunities to learn about new ideas and forge new relationships within a powerful and lively business community.
The Entrepreneur Speaker Series offers cutting-edge ideas, inspiring stories, and networking with entrepreneurs from across the 101 corridor. PRiME Competition provides students with an opportunity to compete at a professional level by demonstrating how organizations balance economic and sustainability goals, as well as how to develop innovative solutions. Our New Venture Fair offers students the opportunity to pitch their business ideas to a panel of local entrepreneur judges. Paths to Professionalism is a forum for alumni and students to hear about new directions in leadership and define their career path.
The School also fosters and maintains collaborative relations with many local associations. These include the Association for Corporate Growth (a hub for the city's business community), the L.A. Venture Association (Southern California's premier forum for entrepreneurs, venture capitalists, angel investors, and professional advisors), the Economic Development Corporation of Ventura County, and a center for entrepreneurial business incubation and collaboration hosted at our Westlake Center.
There are many ways corporations can partner with the School of Management to impact business and the lives of business students, including membership in an Advisory Council, partnerships with Centers, collaborative course-based projects, student internships, investing in faculty-led research, and more.