PRiME Competition 2022
PRiME Competition is inspired by the Principles of Responsible Management Education (PRME), a worldwide initiative of the UN Global Compact to end poverty, protect the planet and ensure that all people enjoy peace and prosperity.
Students presented their class projects that support the global Sustainable Development Goals (SDGs). Professors provided guidance to our students. Top managers who are experts in the sustainability field participated as judges, and the community voted for the People's Choice Award.
Together, we can shape a more sustainable future!
Sustainability Experts as Judges:
We were honored to present top managers in the sustainability field, who shared best practices from different industries and worked with us as judges in the competition:
Joanie Burns
Environment, Health, Safety, and Sustainability (EHSS) Manager
Amgen
Wilson Hago
Founder & CEO
Hago Energetics, Inc.
David Jones
Sustainability Officer
City of Glendale
Management Services
---
Competition Award Winners:
We proudly celebrated the participation of the students at the School of Management who presented projects addressing the Sustainable Development Goals (SDGs).
And the winners are...
---
Honorable Mentions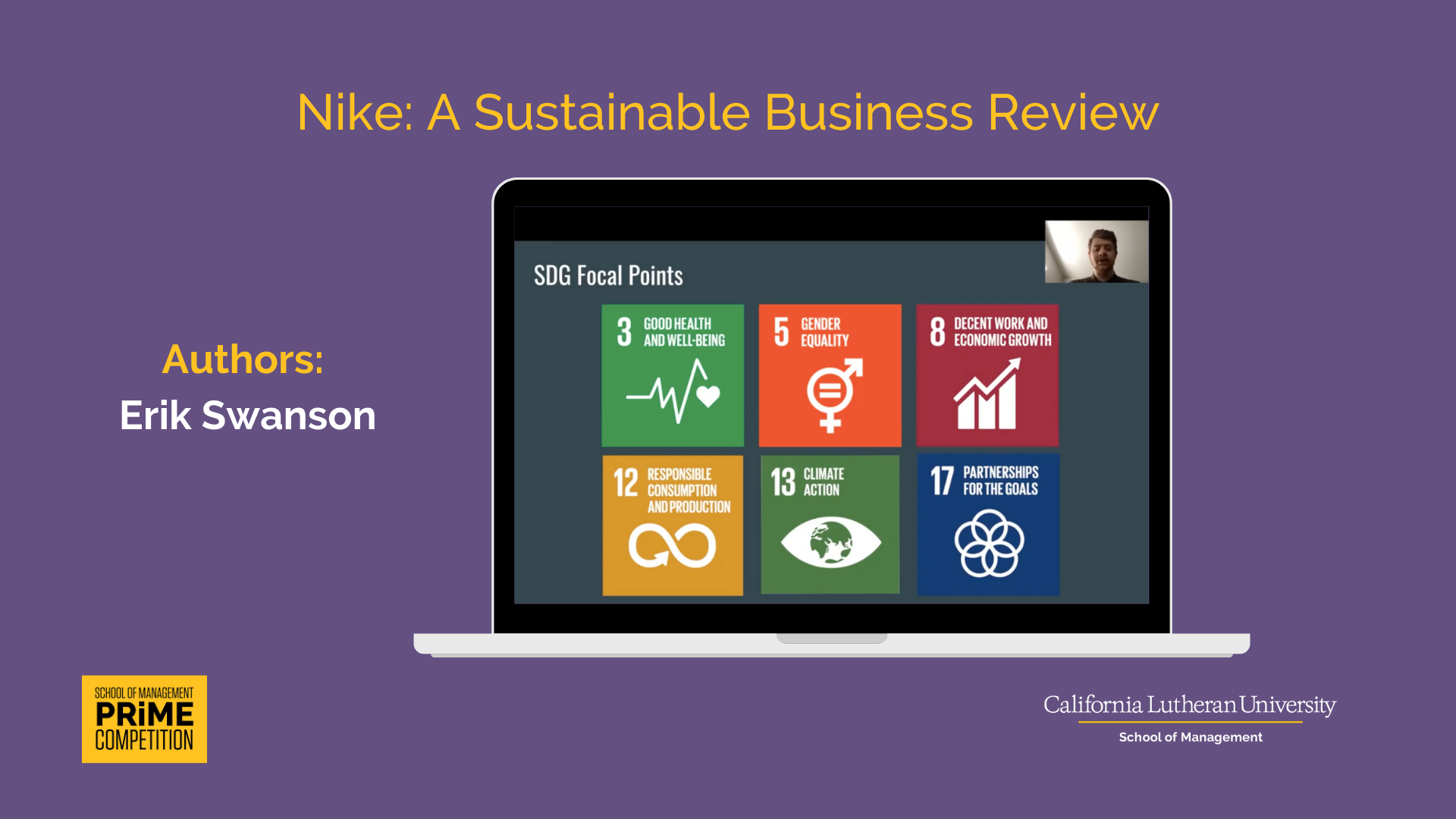 Nike: A Sustainable Business Review
Author: Erik Swanson
Meals with Nutrition
Authors: Mercedes Collison, Alex Rivas, and Erick Cadena
Selvyn
Authors: Elizabeth Riker, Riley Mitchel, Alison Chisum
Economic Strategies when Faced with Climate Change and Environmental Regulations
Author: Nathan Hatia
---
Finalist Projects Presented:
36 projects were submitted with 12 selected as finalists for the competition. Each project required a written paper, SDGs-executive summary, video presentation, and Powerpoint/poster presentation for judges' review. The School of Management recognizes the participation of all the talented students in this competition.
Climate Coffee.

Sireen Moriarty, Ndungu Njoroge, Jose Hernandez

Aldi.

Julia Wright

Meals with Nutrition.

Mercedes Collison, Alex Rivas, Erick Cadena

Nike: A Sustainable Business Review.

Erik Swanson

Adidas: Clean Water and Sanitation.

Owen Ebner

Savvy Student.

Brooks Mallory, Tim Neibert, Cameron Mallory

Selvyn.

Elizabeth Riker, Riley Mitchel, Alison Chisum

SPORTIDE.

Kaylie Scofield, Tyler Verna, Janelle Effarah

Food and Sustainability: Meat vs. Vegan.

Cornelia Oswald, Sebastian Dernoscheg

JetBlue's Sustainable Business Strategies.

Brandon Perera

Reimagining the Public Sector.

Cassandra Sue Chavez
---
PRiME COMPETITION IMPACT
PRiME 2022 Global Footprint
Competition Stats
1050 Voters
3150 Votes
---
"We believe that business can be a force for change and bring innovative solutions to global problems. Join us next year in PRiME Competition 2023."
Valeria Makarova, PRME at SOM, Project Lead